Welcome to the Sunshine Hill Press website!

Home of the Forbes Road and Rebellion Road Series
Historically Accurate Novels of America's Colonial and Revolutionary Era
By Robert J. Shade
We invite you to join the thousands of readers who have followed frontier marksman and gunsmith Wend Eckert and the compelling cast of characters who inhabit the pages of the books in both series.  Read the summaries below to learn about the plotlines of these absorbing, fast-paced historical novels set in the French and Indian War,  Pontiac's Rebellion, Dunmore's War, and the Revolution.  Kirkus Review service says, "Well researched … will appeal to Early America enthusiasts and Revolutionary War buffs. It's easy to love Wend as much as the women in his life do…"  Once you've done that, to get a printed copy or e-book version of one of the novels, all you have to do is click on the appropriate Buy Now button.
Sunshine Hill Press Announces the New Rebellion Road Series!
Flight From Bonniecrest Manor
The Governess is a Fugitive from Justice!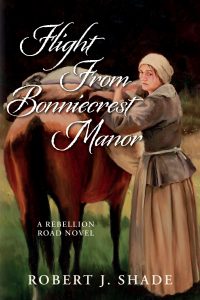 It's 1776 and Great Britain is astir.  Regiments are recruiting and troop transports are gathering in every major seaport as the King's government prepares to send a massive army to subdue the growing revolution in its North American colonies.
Mary Fraser, former "Daughter of the Regiment" in the 42nd Foot, has spent eight years living her dream of serving as governess on an estate in the Scottish Highlands. Then, one night in March, the unthinkable occurs. Thenew master of Bonniecrest Manor lies dead in a pool of blood on the floor of Mary's bedchamber and she must flee for her life in a world where peril and treachery await around every corner.  There's on ly one place where she'll find refuge, but it will take all her army survival skills and the help of old friends and unlikely allies to get there.
In this second novel of his Rebellion Road series, Robert J Shade brings the lost love of Virginia gunsmith and scout Wend Eckert back into the storyline in a fast paced, suspense filled tale which will keep the reader glued to its pages while illuminating an infrequently explored aspect of the American Revolution.
| | |
| --- | --- |
| Print Version at Amazon | List Price: $14.95 |
| Kindle eBook Version | List Price: $ 4.99 |
Pursuit Through Chaos
An Epic Chase in the Turbulent Opening Days of the American Revolution!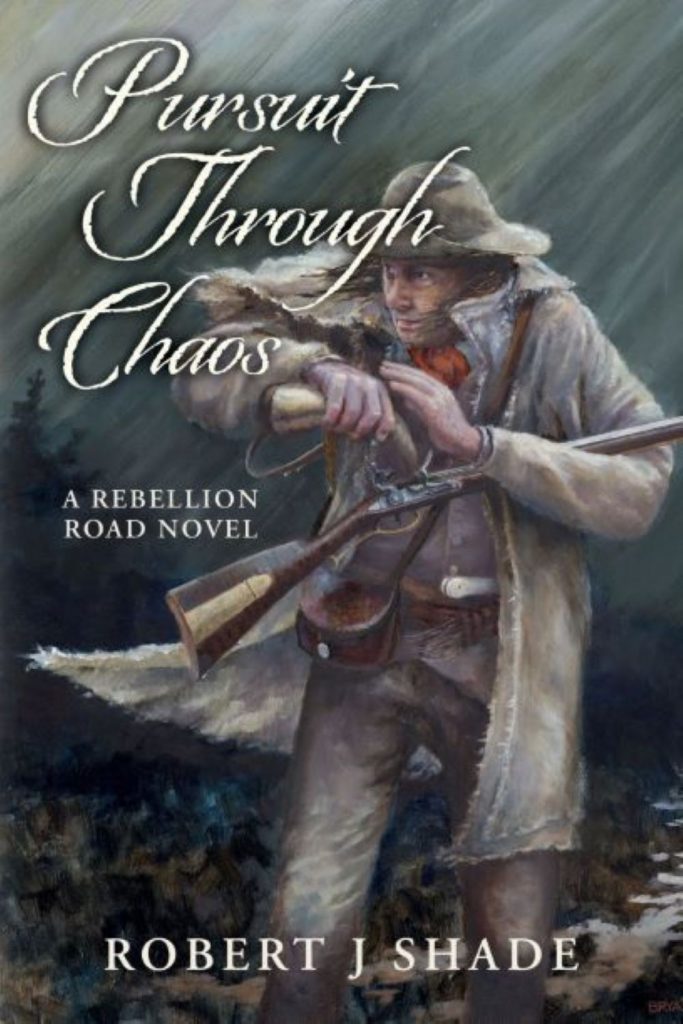 The year is 1775.  Britain's North American colonies have risen in revolt against King George and Parliament.  In the wake of Lexington and Concord, George Washington commands a ragtag militia army besieging British occupied Boston.  The Continental Congress in Philadelphia is debating the colonies' next move: negotiate reconciliation or declare independence?  Meanwhile, in Virginia, Royal Governor Lord Dunmore has fled Williamsburg but has assembled a strong force of loyalist troops to help him reestablish authority over the rebellious colony.
Against this background, Winchester gunsmith Wend Eckert delivers a supply of badly needed muskets to Colonel Patrick Henry's newly formed Patriot regiment.  But instead of being welcomed with gratitude, Eckert finds himself denounced as a royalist spy.  To prove his innocence, he is tasked with the capture of British Colonel John Connolly, who is leading a plot to instigate a devastating Indian attack against the middle colonies. And, adding insult to injury, Eckert is forced to ride under the command of his accuser, a duplicitous officer with dangerous ambition.
In the style of his Forbes Road Series, Robert J Shade skillfully weaves an action packed tale of deceit, danger, and redemption around the history of a true but little-known incident that shaped the early days of the Revolution.
Pursuit Through Chaos 
| | |
| --- | --- |
| Print Version at Amazon | List Price: $16.99 |
| Kindle eBook Version | List Price: $ 5.99 |
A Deadly Conspiracy at the Forks of the Ohio!
Lord Dunmore's Folly: Treachery on the Ohio
Book IV of the Forbes Road Series, available now at Amazon!
"Great finish to an outstanding series!" — VAM at Amazon.com
"Magnificent! …Plenty of action punctuated by moments of beautiful tenderness."  — Seldom Seen at Amazon.com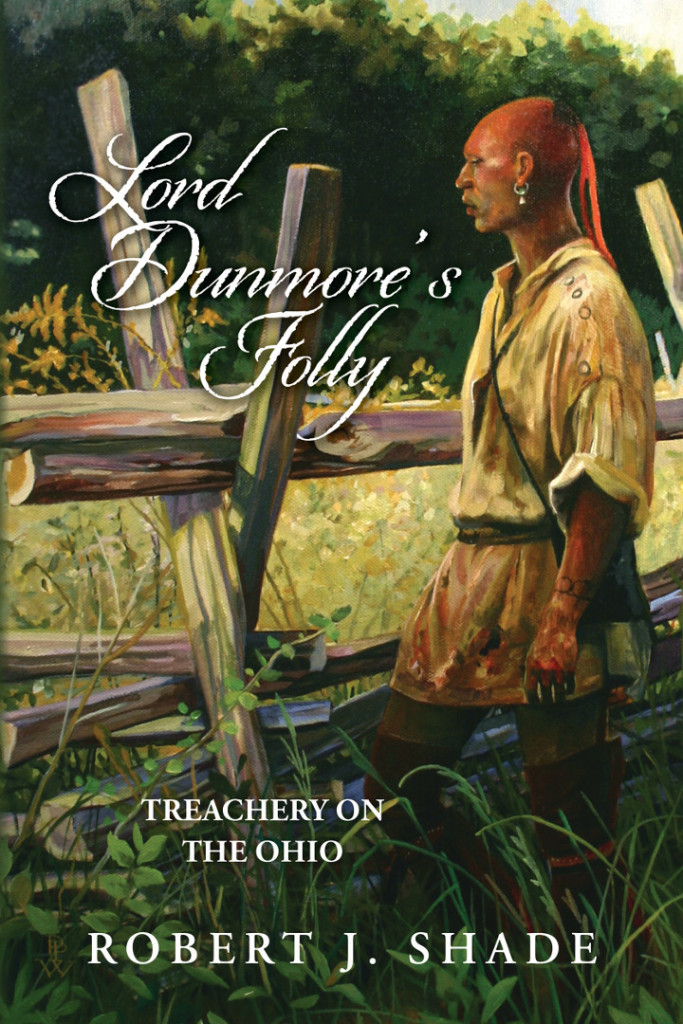 The ten years since Wend Eckert fled Pennsylvania at the order of the Cumberland County Sheriff have been good for him and his vivacious wife Peggy.  On their farm near Winchester, Virginia, Wend's gunsmithing trade has prospered and the couple has been welcomed into local society.  But the year is now 1774 and everyone feels the cold shadow of growing tension with the Kings Government as the British Army occupies Boston to enforce the Intolerable Acts.
British Governor Lord Dunmore recognizes the signs of impending insurrection and, with a ring of henchmen that includes duplicitous merchant Richard Grenough, concocts a scheme intended to keep Virginia's colonists loyal.  His men seize control of Pittsburgh and then treacherously provoke the Shawnee and Mingo tribes of the Ohio Country into a vicious war against the Virginia settlements.  With the frontier in flames, Dunmore calls a militia army of border riflemen to arms, promising subjugation of the Indians and generous land grants in Ohio and Kentucky to veterans.
Against his will, Eckert is dragged into the conflict and forced to march as part of an expedition against Shawnee villages along the Muskingum River.  Dispatched on a secret mission, he finds he must stand in single combat against a vicious warrior to reunite with the son he conceived long ago with Abigail Gibson, English medicine woman of the Mingo.
Meanwhile, Peggy becomes involved with a mysterious, handsome gentleman of highborn manners who visits Winchester and begins a relentless pursuit of her favors.
Then, on a dark, blustery spring night of 1775, Wend, defying Peggy's explosive anger, rides out alone to keep the pledge he made over his father's grave and exact final revenge on Richard Grenough.
Near the Shenandoah River, Eckert confronts Grenough under startling circumstances neither could have predicted.
| | |
| --- | --- |
| Print Version at Amazon |  List Price: $19.99 |
| Kindle eBook Version | List Price: $ 5.99 |
The Advance into the Ohio Country is Underway!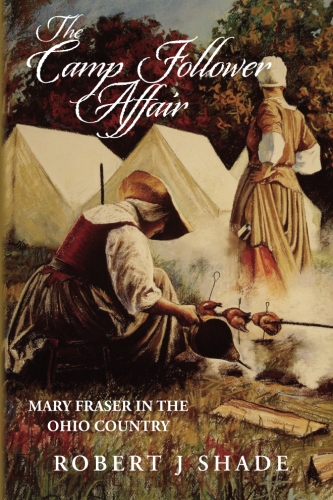 The Camp Follower Affair
Book III of the Forbes Road series, available now!
October 1764: A powerful British force crosses the Allegheny River from Fort Pitt to march against the Delaware, Mingo, and Shawnee tribes of Ohio, now in their second year of savage insurrection against British rule and colonial settlement. The expedition includes battle-hardened regulars of the Royal Americans and the Black Watch, supported by tough Virginia and Maryland riflemen and provincials of the Pennsylvania Regiment. At their head is the man the tribal chiefs fear the most: Colonel Henry Bouquet. He is a brilliant mercenary officer who skillfully blends European and Indian tactics to make his men the match of tribal warriors. Bouquet is determined to force the warring chiefs into peace negotiations or defeat them in battle. But the colonel faces one enemy he can never conquer: The impending onset of winter weather which could trap his force in the wilds of the Ohio Country, far from its base of supplies and ultimately spell disaster for the expedition.
Beautiful, auburn haired Mary Fraser is a sixteen year-old orphan of the Black Watch and former lover of frontier gunsmith and rifleman Wend Eckert. Now recovered from the near fatal wound she received at the Battle of Bushy Run, the highland girl accompanies the expedition as a nurse, her heart broken because she has lost Eckert to another woman through an ugly trick of fate. Little does she know that her name will soon be linked in scandal with that of traitorous merchant and political manipulator Richard Grenough. Moreover, Mary's selfless and valiant attempt to protect Eckert's five year old son — a captive of the Mingo Indians — from mortal danger lands her in deep trouble with the officers of her regiment. Suddenly she finds her reputation in shambles. The outcome of the campaign and Mary's fate will be decided by a bloody skirmish on a narrow trail deep in the Ohio Country.
| | |
| --- | --- |
| Print Version at Amazon |  List Price $9.95 |
| Kindle eBook Version | List Price $ 4.99 |
Insurrection Sweeps the Border Settlements!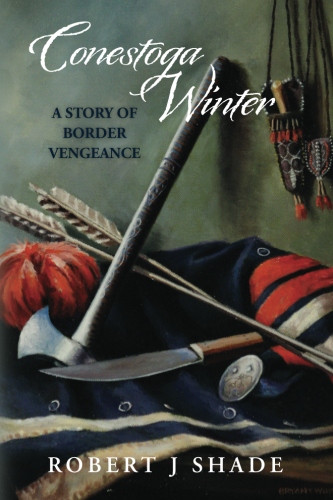 Conestoga Winter: A Story of Border Vengeance
Book II of the Forbes Road series, available now!
Young gunsmith and sharpshooter Wend Eckert returns to the Pennsylvania border settlements from his service as a scout during Pontiac's Rebellion. He is determined to take revenge against wealthy Indian trader Richard Grenough and his henchmen — the men who were responsible for the death of his family. But Eckert finds that Ulster-Scot settlers are infuriated by the refusal of the pacifist government in Philadelphia to help defend the border country from rampaging war parties. In frustration, rogue militiamen from Paxton attack the peaceful Conestoga Indians of Lancaster in the belief that they have been providing assistance to the hostiles. Wend suddenly finds himself at odds with friends and neighbors as he tries to save his former school friend, Charlie Sawak, of the Conestoga tribe.
Over the long winter, Wend travels the Cumberland valley to uncover the long tentacles of Grenough's conspiracy and finds that the trader helped incite the attack on the Conestogas in order to distract attention from his treasonous operations. Wend realizes that he must resort to violence to bring justice to the outlaw trader. Then, in the midst of his private war, the young man finds himself romantically entangled with a woman who is the lover of his greatest enemy.
Finally, on a mountainous, winding stretch of Forbes Road, Wend Eckert and his enemies meet in a climactic battle to the death.
| | |
| --- | --- |
| Print Version at Amazon |  Discounted Price: $13.49 |
| Kindle eBook Version |  List Price $4.99 |
Readers Praise Conestoga Winter:
Five Stars.  "A good, old-fashioned yarn, and you learn a lot of early American history!"
I've read both of Robert Shade's Forbes Roads books, and I found Conestoga Winter a really fine novel.  I know enough about the period to know that Shade has done his research well, but he's also given us a story that doesn't have the artificiality of other books in which novelists have tried to stick close to history.  He's a real story teller, and within  a few pages you're going to care about his characters, while also getting  some sense of the granularity of American history when the frontier was in Western Pennsylvania.
                                                                                                        Bill Burrows on Amazon
"Five Stars.  A fine sequel to Forbes Road!"
As expected, Robert Shade has writted a fast moving, compelling follow-up to Forbes Road that hardly allows the reader time to put the book down! The story line of Wend Eckert's adventures following his military stint during the border clashes of Pontiac's Rebellion along the Pennsylvania/Ohio frontier continues.. I find this a compelling read of a fictitional character woven into the historical fact storyline of this fascinating period of westward expansion of the American Frontier. A 5 Star read for the history buff!
M.J. Wayne on Amazon
J
The Border Country is in Flames!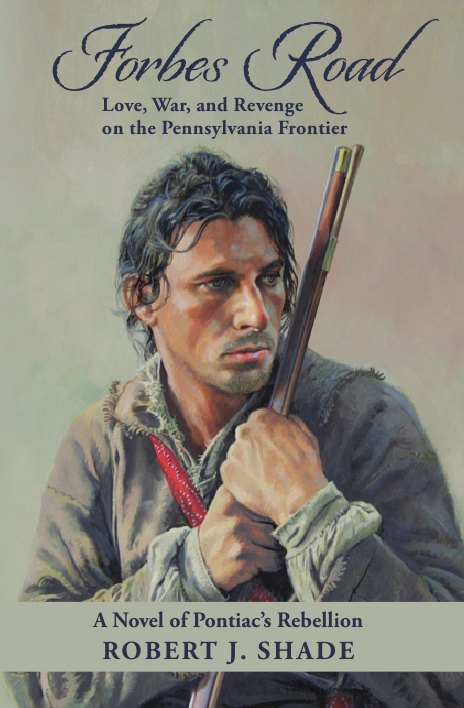 Forbes Road: Love, War, and Revenge on the Pennsylvania Frontier
Book I: The Wend Eckert saga begins!
It is 1763: The French and Indian War is over.
But the tribes of the Ohio County are infuriated with their new British rulers, who they believe treat them with contempt, break all their treaties, and have built a string of forts along the Allegheny River and into the Great Lakes region. They are even more disturbed by the waves of European settlers who are swarming over the Allegheny Mountains, clearing land, and threatening the Indians' very way of life. Spurred on by a mystical prophet named Neolin and a charismatic war captain called Pontiac, the tribes from the Great Lakes to the Ohio unite in bloody rebellion.
Young gunsmith and marksman Wend Eckert, German by birth and Scots-Irish by adoption, marches as a scout with the British Army in an attempt to rescue the dazzling English girl from Philadelphia who was his first love but who was captured four years earlier by a Mingo war chief. Along with veteran scout Joshua Baird, he must help Colonel Henry Bouquet of the Royal Americans guide an expedition along Forbes Road, the rugged wilderness trail which connects Fort Pitt with Eastern Pennsylvania, in a desperate attempt to save hundreds of settlers besieged in the fort.
As the column marches through the hostile forest, Wend is buoyed by the prospect that he will be able to find his girl. But then he encounters an unforeseen obstacle: A romantic distraction in the form of an enchanting Scots lass who is the darling of the 77th Highlanders but has eyes only for the young colonial scout. For the first time in four years, Wend is torn by internal conflict about his future. He increasingly comes under the spell of the highland camp follower who, in her own way, is as irresistible as the elegant girl from Philadelphia.
The war and the youth's future will hang in the balance near a place called Bushy Run where the pick-up British battalion, formed from three broken regiments, battles a massive force of tribal warriors for control of the Ohio Country.
Somewhere along Forbes Road, the boy becomes a man and the man grows into a legend.
| | |
| --- | --- |
| Print Version at Amazon |  Discount Price $16.19. |
| Kindle eBook Version | List Price $ 4.99 |
Reviewers and Readers Praise Forbes Road:
"Five Stars"
"Great slice of American colonial history. Once started I could not put it down. The author knows his stuff and drags the reader in from page one. Great stuff and thoroughly recommended."
Craig on Amazon UK
"Five Stars"
"Loved the book!! Couldn't put it down. Well written, very good historical content makes reading history fun. Can't wait for Vol 2!!!! Hurry up and write it!!!"
Mike on Amazon
"Superb. . . Was going to save . . . for a vacation.  But once I started to sample the book I couldn't hold back and had to finish it.   . . .blended the best of both history and story such that I felt as if all of it was real.  I need to know what the future holds for Wend."
D.R. via email to Forbes Road Website
Buy the print or Kindle edition of Forbes Road now!